CASE STUDY: Treatment Systems
When the Town of Marana, Ariz., experienced rapid growth, quick but effective treatment solutions to their existing municipal lagoons were sought. The upgraded facility required meeting three basic criteria: (1) expanded capacity in the short term to 150,000 GPD; (2) enhanced biological treatment capability to allow some (or all) effluent to be re-used; (3) be cost-effective because long-term growth would eventually require a replacement system ten times larger (or 1.5 MGD).
A proposed interim packaged treatment plant solution would bridge the gap between the original lagoons and a future large capacity wastewater treatment facility to be planned later in the decade.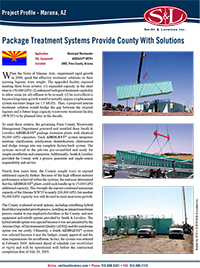 The solution was S&L's ADDIGEST® Treatment System.  To continue with this case study, please complete the form at right.